Seven Colorwork Adventures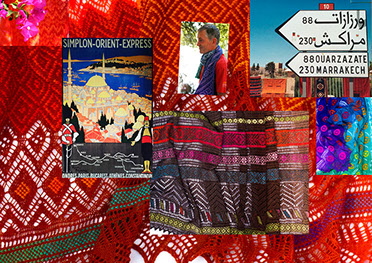 A collection of seven globetrotting knitting patterns featuring a variety of colorwork techniques.
All were originally knit with hand dyed gradient yarns - however, you don't need to use gradient yarns to knit these patterns. For example, Atlas, Bosphorus and Daisy Waves can be knit with a plain MC & lots of different colors for the stranded motifs, Romeo can be made with bands of different colors, and Flatweave and Juliet could be made with two colorways of Zauberball.
Alternatively, you can use self striping yarns, or make up your own gradations, progressions or sequences of colors and have fun seeing how they interact with each other to make something unique and adventurous!
I like using Shetland yarn (Jamieson's of Shetland, or Jamieson & Smith) for colorwork - it's heavier than the original yarn and knits up more quickly - see version 2 of Bosphorus to get an idea of the difference. Both ranges come in lots of shades, making it easy to put together your own gradations.
There is a Gorgeous Gradients group on Ravelry which might be a good starting point for substitute gradient yarns. Also the "yarn ideas" tab on the Ravely page of each pattern will give you a very good idea of the range of different yarns have been used in many projects.
The original samples were knit with ColorShift Yarn, which is now discontinued - yarns come and go, but the patterns remain and there are lots of possibilities to knit them in currently available yarns or your own handspun.
ColorShift Yarn was a two-ply jumper weight (fingering) yarn milled from 23.5 micron superwash Merino wool, knitting up at about 8 stitches per inch on US1 or US2 needles (2.25 or 2.75mm).
Click on the thumbnails below to view the pattern pages: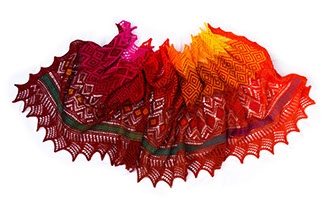 A large exotic stole inspired by colorful Indian embroideries and filigree patterns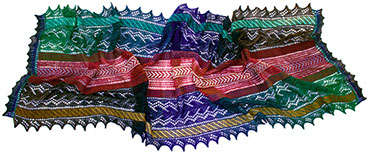 A large complex stole pattern inspired by Turkish author Orhan Pamuk's "Istanbul, Memories and the City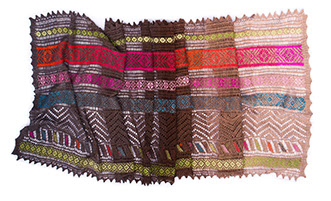 A large rectangular shawl inspired by North African embroideries, the colors of camels, and memories of a trip to the Atlas mountains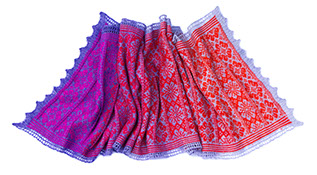 A stranded stole pattern inspired by Renaissance damasks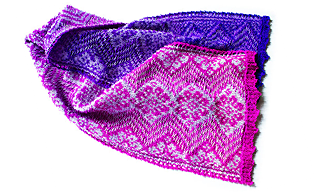 A richly textured vibrant scarf or shawl in two colors, combining stranded knitting with zigzags of reverse stranding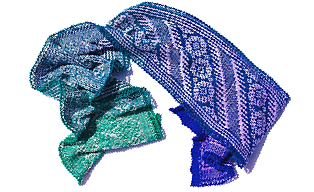 A two color scarf with textures, stripes and motifs inspired by Asian flatweave carpets
A paintbox of daisies & a rainbow of waves combined in lace knitting, stranding and intarsia
The eBook contains 105 pages and offers a 49% discount over the full price of the individual patterns.
$22.50