Indigo & madder
Four shawl patterns designed by me in collaboration with Renaissance Dyeing, a small family business specializing in naturally dyed yarn based in the foothills of the Pyrénées.
The natural dyestuffs used include indigo, madder, cochineal, chestnut and woad.
Renaissance Dyeing kits are available for each pattern.
Click on the thumbnails below to view the pattern pages: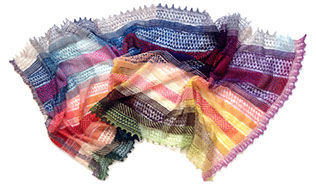 A large lightweight rectangular shawl with stripes of lace and stranded knitting in a patchwork of harmonizing natural colors

Renaissance Crescent
A sunny shawl with bands of stranded and lace knitting in a rainbow of harmonizing natural colors, evoking the warmth of Mediterranean climes - terracotta, sunshine and flowers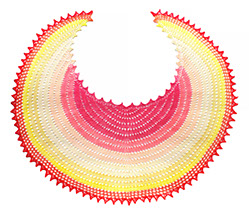 A light contemporary lace crescent inspired by the warm summery colors of roses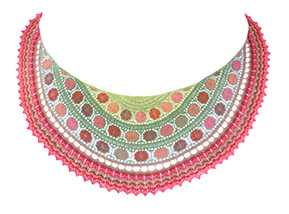 A light romantic openwork crescent inspired by fresco colors, mosaic motifs, soaring domes and architectural details
The eBook, which is available in English and French versions, offers a 37.5% discount on the full price of the individual patterns.
$15.00