I like to experiment with knitting techniques and colors.
Information on the techniques used can be found on the knit/lab help page.
If you have any comments or suggestions, photos of your projects or comments on the website, please contact me.
See below for some background on my journey as a textile designer.
​Color and pattern intrigued me as a child, and I spent a lot of time doodling, drawing, making things and painting.I learned stranded knitting at home at an early age and went on to study textile design at the National College of Art in Dublin, Ireland. At the time, students were encouraged to have a notebook on hand at all times to sketch down ideas, and to collect postcards, cuttings and ephemera for inspiration - this was in the days before digital photography. ​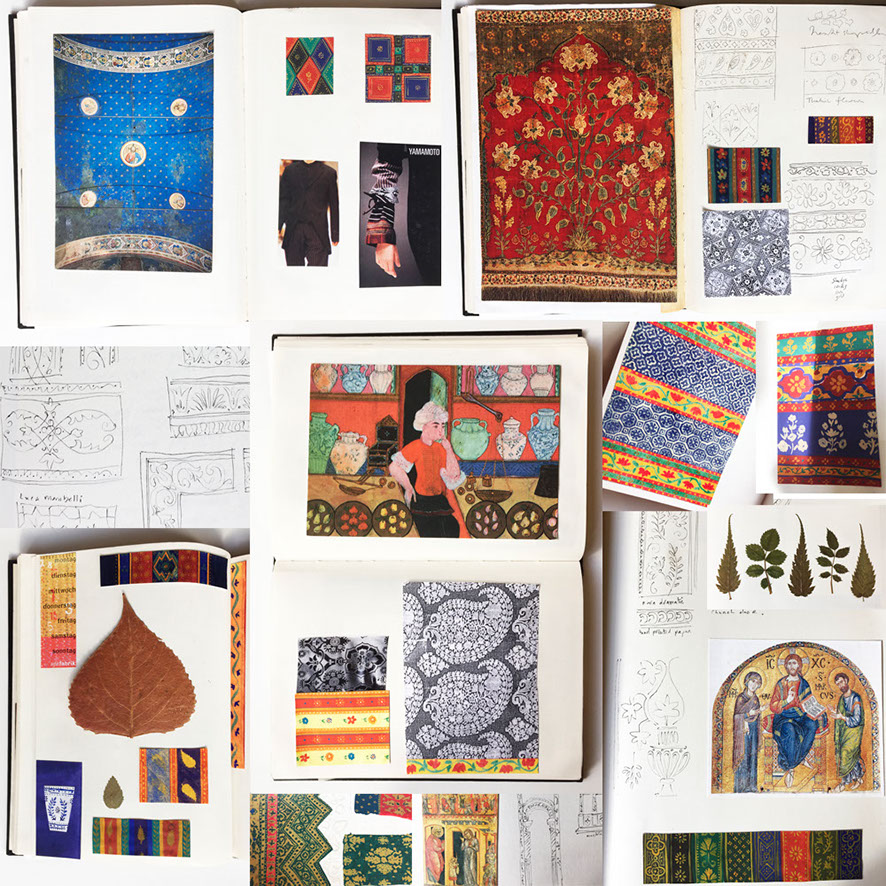 After college, I worked in the printed textile industry in London and Milan.Much of my spare time in London was spent traveling on the Piccadilly Line to explore the various museums and galleries: The fascinating Egyptian and Mediterranean collections of the British Museum; the Victoria and Albert Museum's vast collections of textiles and decorative arts and emphasis on the history of design; the National Gallery's gilded altarpieces, and historical portraits with great variety of faces and costumes from different centuries. ​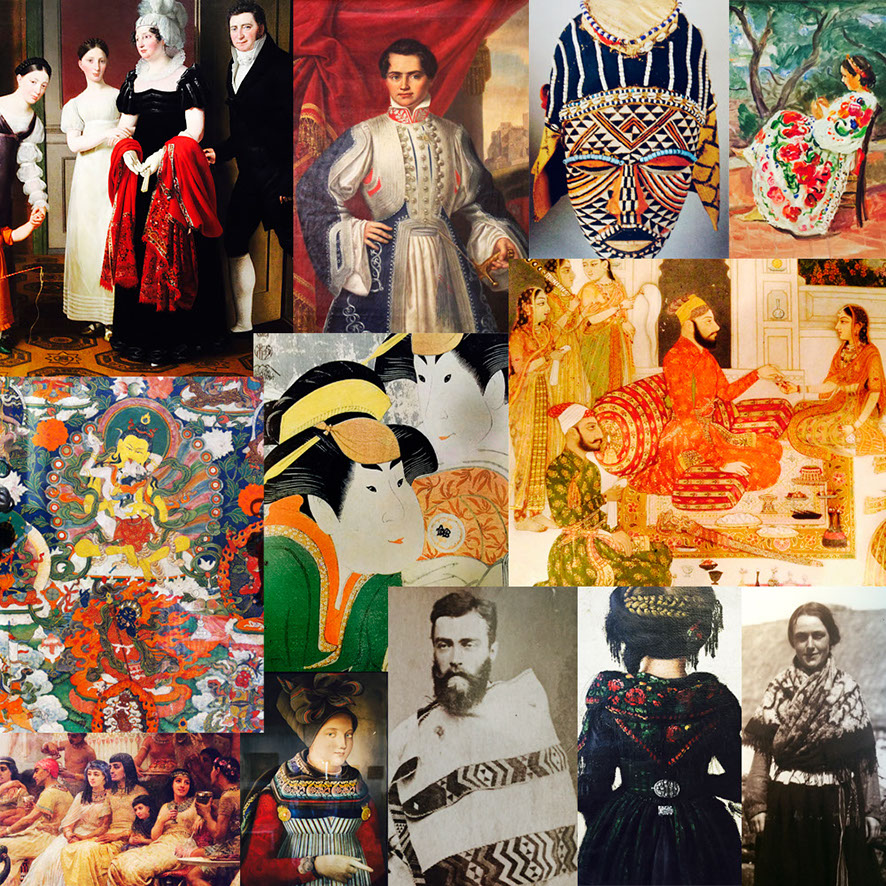 London was far ahead in terms of cultural diversity compared to Dublin at the time, with African and Asian shops and restaurants, and the bright lanterns of Chinatown - The Last Emperor was showing in cinemas. It was amazing to be at the heart of the fashion industry in Milan – all the big designers' stores are concentrated in a compact area of historical streets; the range of architectural styles, the general interest in design and the opportunity of train travel in all directions – Venice, Florence, Rome, Paris, Munich, Bucharest. ​
More recently, holidays in Greece, Morocco and Iceland have been stand-outs for inspiration.Greece's scintillating light, whitewashed houses decorated with geraniums and handmade textiles passed down through the generations, museums with fabulous regional costumes featuring embroidery, lace and weaving; churches with dark interiors stuffed with icons and chandeliers; ancient traditions of hand-painted pottery and terracotta, and colorfully painted fishing boats bobbing on the horizon. ​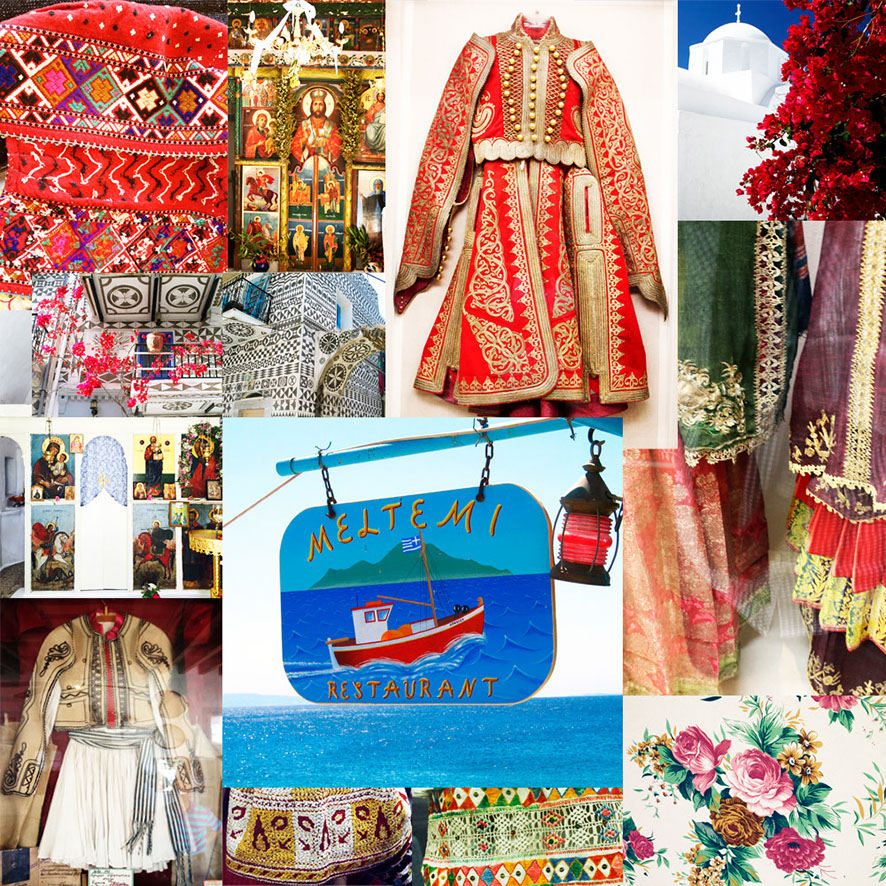 Morocco also has fabulous clear light, as well as intriguing architecture, carpets, textiles and ceramics, and beautiful mountain scenery with an abundance of wild flowers.I loved Iceland's breathtaking volcanic landscapes, distinctive little towns, and many small museums with natural history displays, vintage knitting collections and arrays of old photographic portraits. All sorts of textiles fascinate me - I love traveling to places with strong knitting traditions - Estonia and Latvia was a great trip, I hope to visit Lithuania some day - in general I seek out ethnographic museums in search of unusual clothing and bodily adornments. ​
The west of Ireland, where my roots are, has beautifully textured and subtly colored landscapes, the shimmer of the Atlantic, wide cloudscapes, small harbors with rusty ships, and beaches with an infinite variety of delicate sand patterns created by the flowing tides - as well as the old cottages with their rambling roses and fuchsias gone slightly wild. ​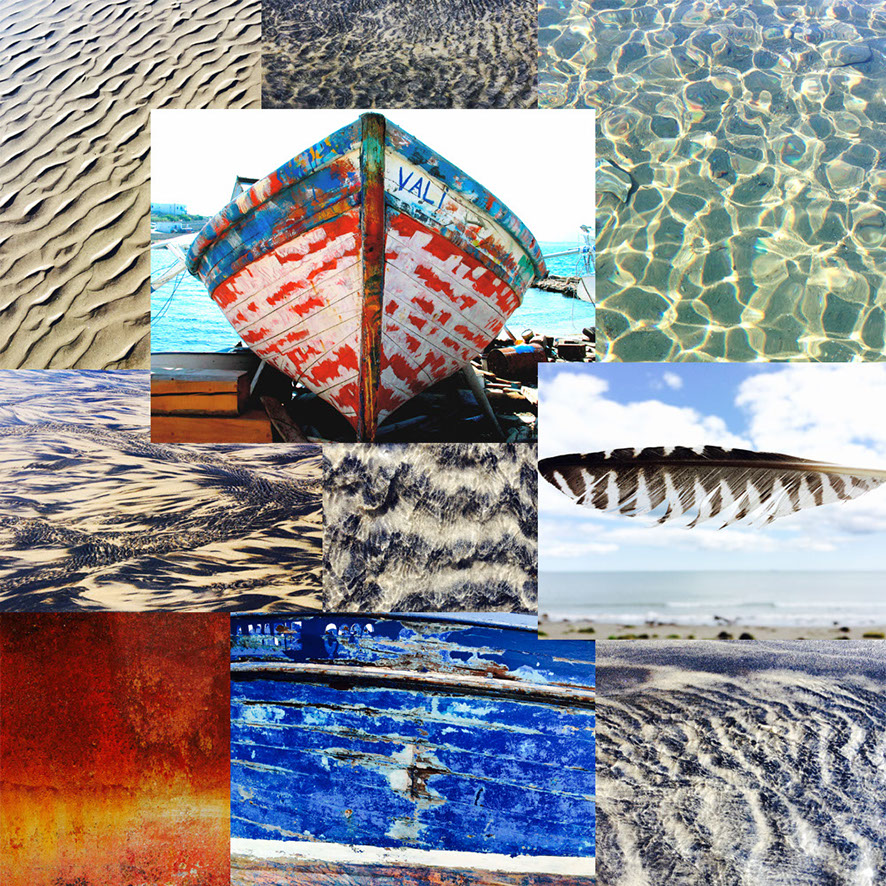 Plant life in general is a great source of design ideas for me - spring brightness and autumnal richness, the textures, patterns and hues of leaves and petals - I like to visit botanical and historical gardens wherever I go – Farmleigh and the National Botanical Gardens in Dublin, Kilmacurragh and Avondale in Wicklow, Kew and Great Dixter in England. ​