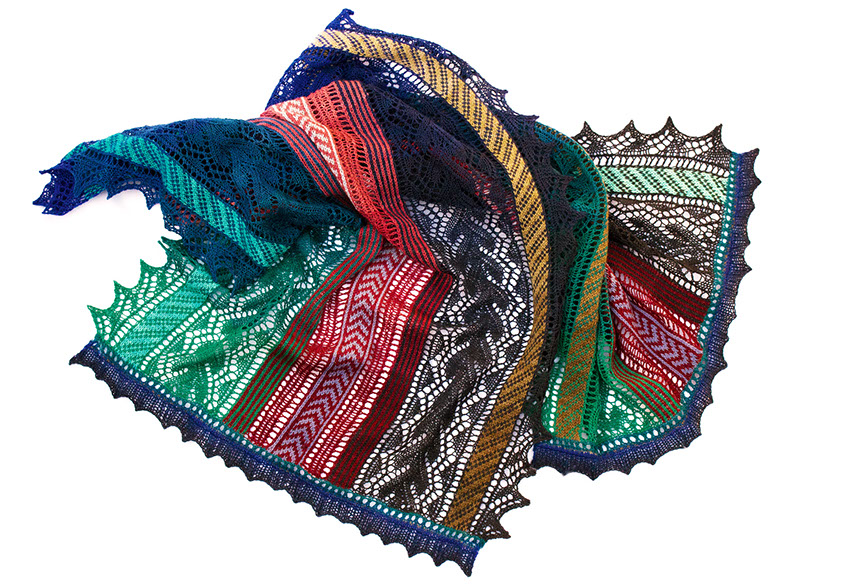 A large complex stole pattern inspired by Turkish author Orhan Pamuk's memoir "Istanbul, Memories and the City".
The pdf includes the original pattern knit with ColorShift Yarn, together with a variation using Jamieson's Shetland Spindrift yarn.
Original pattern in ColorShift Yarn:
The original sample was knit on 2.75mm/US2 needles with ColorShift Yarn sets (discontinued - see help page):
MC is a combination of Cobalt to Midnight color bridge 640yds/584m
and Cobalt to Sea Forest Green color bridge 640yds/584m
CC1 is Garnet to Bosphorus Red color bridge 640yds/584m
CC2 ribbon colors are quarter sets of Camel, Faded Jeans and Swimming Pool color gradations, each 240yds/219m
I didn't use up all the yarn - there's plenty left over.
Actual quantities used: approximately 550yds/500m of the MC sets and CC1 and 200yds/180m of the CC2 sets
Gauge: approximately 22.5sts and 28 rows = 4 inches/10cm in lace and intarsia pattern
Dimensions after blocking: 70in/178 by 24in/61cm
The pdf also includes a variation in Jamieson's Shetland Spindrift (see below).
Techniques include back and forth stranding, intarsia and lace knitting, with 6 colors in each row.
The main charts are quite wide and are divided over two landscape pages.
The pdf includes charts, short written instructions and notes for both versions of the pattern, and a phototutorial on splicing yarn ends.
$6.00
Variation in Jamieson's Shetland Spindrift:
The variation (see photos below) was knit on 3.5mm/US4 needles with 280g/1300yds/1180m of Jamieson's Shetland Spindrift:
Blue/green MC: Mermaid 688, Nighthawk 1020 (2 balls), Peacock 258, Clyde Blue 168, Prussian Blue 726 (2 balls as it is used for the ribbing as well), Admiral Navy 727, Gentian 710, Cobalt 684, and Royal 700
The CC1 reds are Ginger 462, Crimson 525, Madder 587, Cardinal 323, and Maroon 595
The green/blue narrow ribbon CC2s are Caspian 670, Aqua 929, Surf 135, Sky 130, Blue Danube 134, and Teviot 136
The pale pink CC2s are Ivory 343, Sand 183, Dog Rose 268, and Blossom 555
The pale gold CC2s are Ivory 343, Buttermilk 179, Flax 375, and Gold 289
Some of the above colors can be omitted to save yarn, as there will be a lot left over.
Click here to download details of the Jamieson Spindrift yarn requirements.
Gauge: approximately 32sts and 26 rows = 4 inches/10cm in stranded knitting
Dimensions after blocking: approximately 78in/197cm by 26in/66cm
Distribution of blue/green and red color groups in the Jamieson's Shetland Spindrift variation