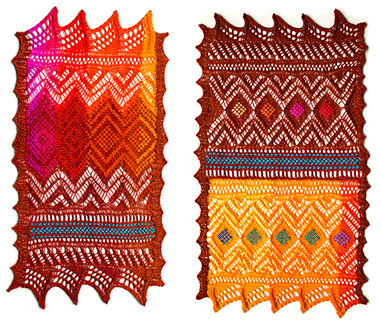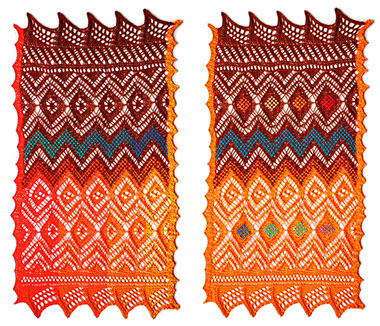 In addition to the main pattern the pdf includes three Sari variations, designed to use half quantities of the 16 MC shades.
The MC is a combination of two half sets of ColorShift Yarn (currently unavailable - see help page):
Copper to Burgundy and Copper to Koi, a total of 16 shades - the total MC is 640yds/584m
The main CC is one set of the warm Parade Progression, 8 shades, 640yds/584m
The intarsia stripe/zig zag uses the cool Parade Progression, approximately 100 yds/90m
You will see in the captions below that two of the four variations pictured above use extra short lengths of yarn for the small intarsia diamonds. These lengths are a great way of using up small quantities of leftovers!
For width of swatches and other details, see captions below.
These variations are included in the pdf of the main pattern.
$6.25
Sari narrow version (above)
Width after blocking: 20in/50cm
There are four options for the stranded diamond pattern, which can be mixed and matched
➟
Sari with zig zag (above)
Width after blocking: 25.5in/56cm
This variation has an option (below) of adding small intarsia diamonds with short lengths of extra yarn
Sari with center stripe (below)
Width after blocking: 22in/56cm
The small intarsia diamonds require short lengths of extra yarn
➟